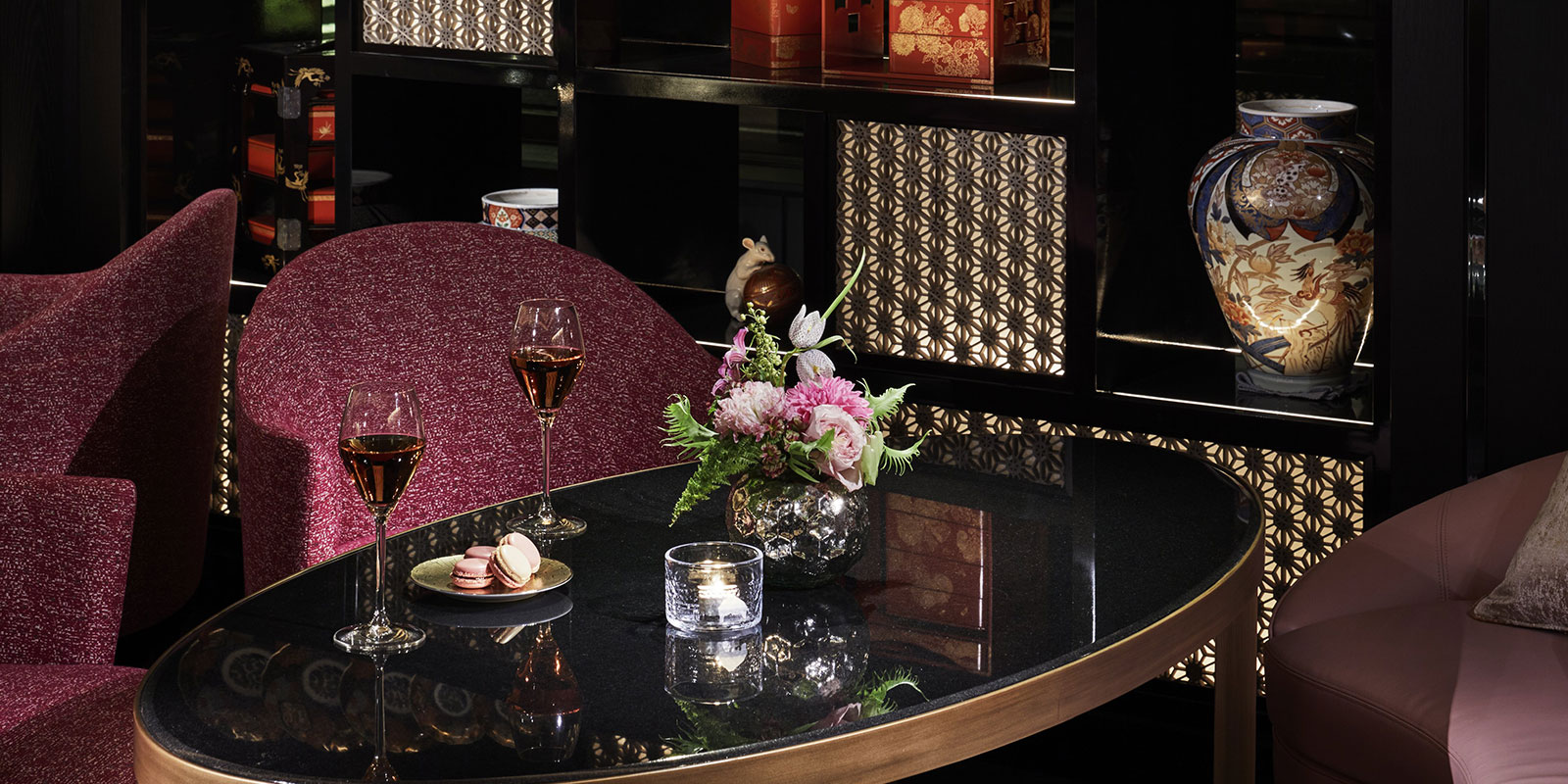 LIFE IN PINK IN KYOTO
FAUCHON L'Hotel Kyoto is destined to become the pre-eminent gathering place in Kyoto. In addition to its social side, the hotel is also a healing space, inviting guests to come unwind from their busy lives, relax and regain their sense of self. Now forever entwined, Paris and Kyoto have become two synchronized cities. This is the place where the modern era of freedom has begun, where you can taste a new style of gourmet food arising from a unique and exciting cross-cultural exchange which pays homage to Japanese culture and French culinary artistry experienced with all five senses. Life in Pink at FAUCHON L'Hotel Kyoto is a welcome accent to the cityscape of Kyoto.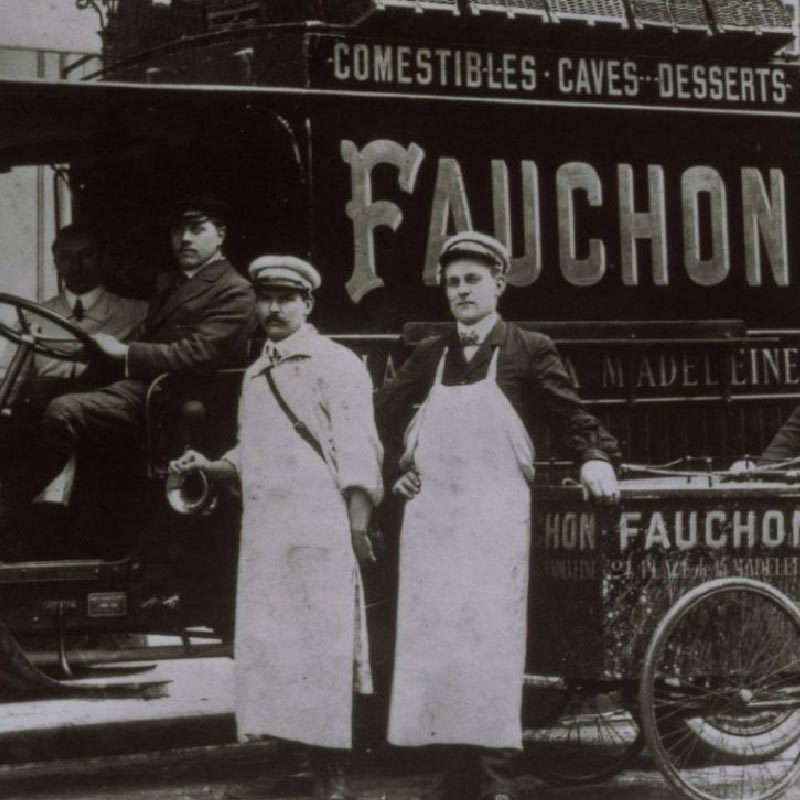 Auguste Fauchon opened his first gourmet food shop in Paris in 1886, and for more than a century, the FAUCHON brand has been synonymous with the finest quality ingredients available at its many restaurants, cafes, catering venues, and retail boutiques around the world.
The FAUCHON evolution continues today with an ongoing quest to innovate something new, delicious, and brilliant, and thus the brand was inspired to house all FAUCHON products and culinary experiences under one roof: at Fauchon L'Hotel. The vision is to enable locals and travelers alike to indulge in everything FAUCHON at any time of the day or night. Talented chefs create unforgettable culinary experiences using carefully selected ingredients delivered fresh that morning.
And now the FAUCHON L'Hotel Kyoto provides a magnificent stage to showcase French gastronomy with Japanese accents to offer a truly extraordinary moment of pleasure to those who demand perfection.
Paris and Kyoto: two synchronized cities which have flourished as centers of tradition, art, beauty, and culture. And now FAUCHON chefs have worked to incorporate Japanese flavors and culinary elements into FAUCHON's iconic French dishes and patisserie to provide a modern twist on French and Japanese cuisine which can be found only at FAUCHON L'Hotel Kyoto: Le Grand Café FAUCHON, Fauchon Salon de Thé, FAUCHON Patisserie and Boutique at street level, and the FAUCHON Bar.

Come experience the world of FAUCHON and indulge your five senses through the various culinary and sensory delights at FAUCHON L'Hotel Kyoto. Our design and decor is a feast for the eyes and inviting to the touch with rich fabrics and textures that beckon. Our specially curated playlist mixes French and Japanese music to present a new auditory experience. And our modern twist on French and Japanese cuisine — with FAUCHON chefs incorporating Japanese flavors and culinary elements into FAUCHON's iconic French dishes and patisserie — is sure to delight the nose and the palate. Let our Artisans of Pleasure welcome you as only FAUCHON can do.
ARTISANS OF PLEASURE.
CURATORS OF DESIGN.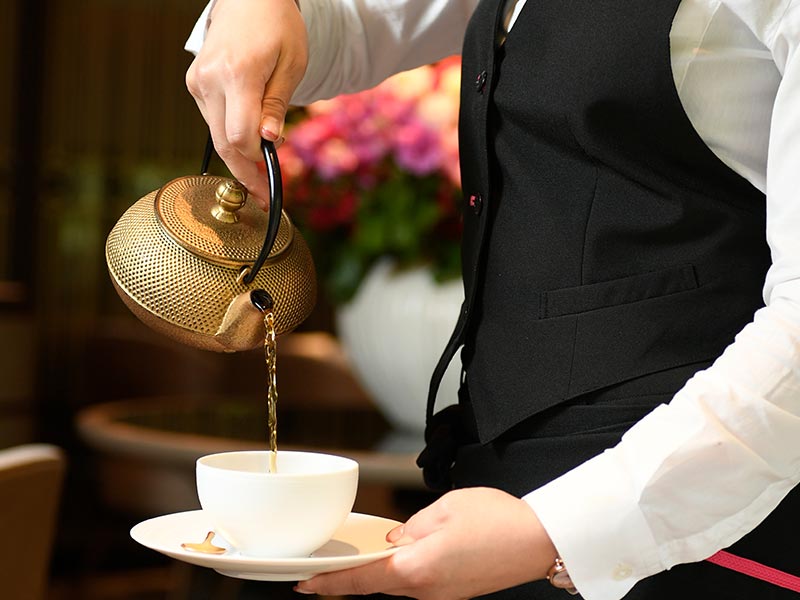 The Fauchon L'Hotel Kyoto is a luxurious five-star hotel experience where guests are attended to by artisans of pleasure and culinary innovation. Our unique style of hospitality combines exemplary gourmet, artistic, design, pampering, and service standards to provide guests with an extraordinary experience.
FAUCHON meets Kyoto in this exceptional marriage of the iconic French FAUCHON hospitality brand with the traditional design and cultural elements of Japan. The new property is a masterful blend of FAUCHON style featuring magenta, black, and gold with a nod to our Kyoto location. There are black painted bamboo accents on the walls, Sakura petals incorporated in many design elements including on the lobby ceiling lights as well as fabrics in the guest rooms and suites, and Washi paper (used in Origami) on the wall above the headboards in the guest rooms. Another design element is the beautiful bedside lighting which represents the French millefeuille pastry.
Seek. Savor. Slumber. Shop. You can do all of this at FAUCHON and more.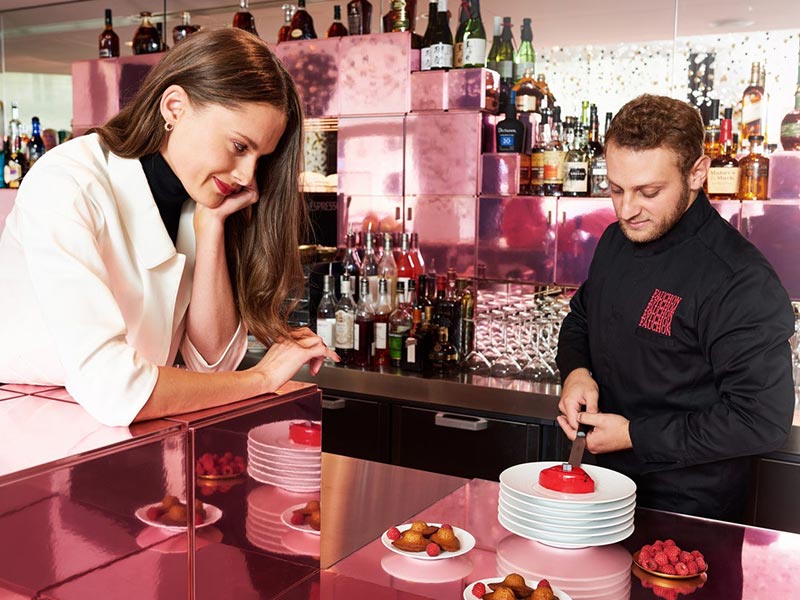 FAUCHON L'Hôtel Paris combines hotel excellence and French gastronomy. Lovers of the brand will be able to immerse themselves in its universe and expertise, and experience and enjoy FAUCHON at any time of the day or night. The 54 rooms and suites, which combine ultimate comfort and boldness, all offer views of the city. The Grand Café Fauchon and its terrace are places to meet, share and enjoy French gastronomy.
A member of the prestigious Leading Hotels of the World collection, Fauchon L'Hôtel Paris offers service that is not only attentive, but surprising. For a unique and privileged stay, the domain presents numerous culinary experiences and private services in the hotel and in Paris.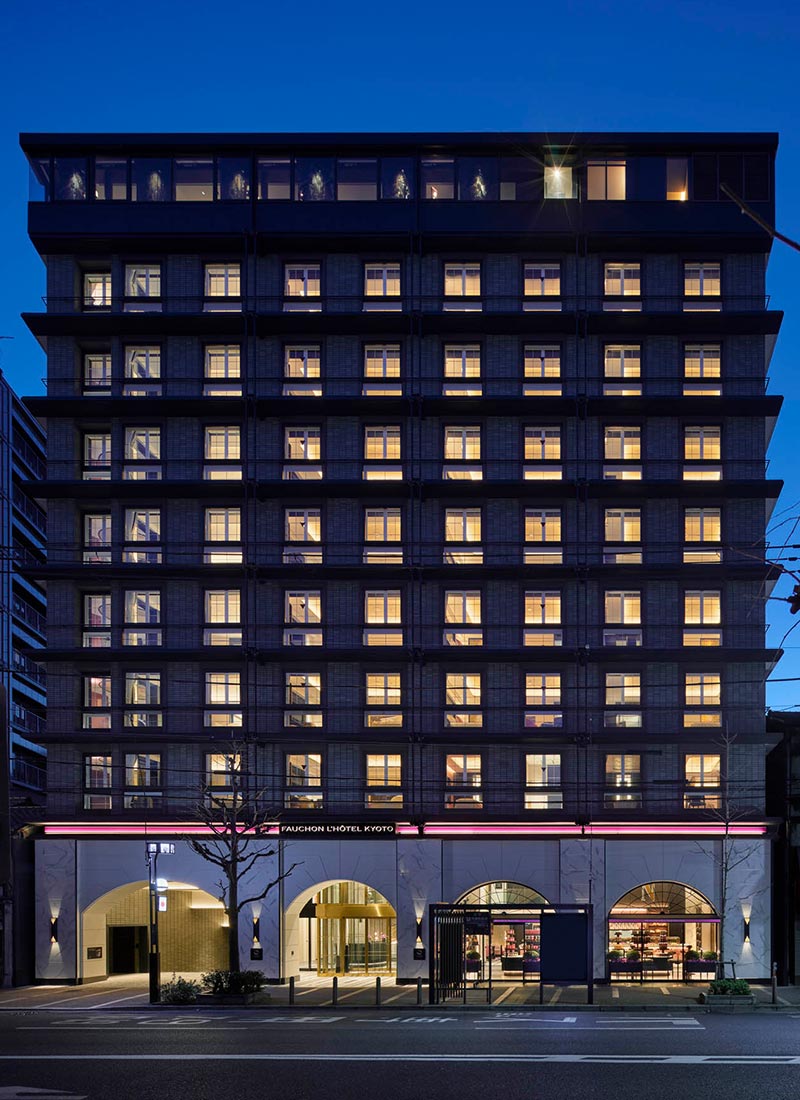 Address

406 Namba-cho, Matsubara sagaru Kawaramachi-dori, Shimogyo-ku, Kyoto city

TEL

81-(0)75-751-7711

Guest Rooms

59 Rooms

Check-In

15:00

Check- Out

12:00

Over View

Parking

There is no parking lot at our hotel.
We kindly recommend you use public transportation, a taxi, or car service to transit to the hotel.

Credit Card

VISA / Master Card / JCB / Diners Club / AMEX / Unionpay