FAUCHON MEETS KYOTO.
THE FRENCH ARTISANS OF PLEASURE HAVE ARRIVED IN JAPAN
FAUCHON L'Hotel Kyoto invites guests to savor the exceptional marriage of the French FAUCHON brand with the iconic cultural elements of Japan. FAUCHON, Paris' curators of contemporary culinary arts and innovators of fine food and pastries, have come to elegant Kyoto to present a completely distinctive experience of luxurious hospitality and gourmet transcendence. Nowhere else on earth can one enjoy a five-star luxury FAUCHON hotel featuring the renowned Gourmet Bar in each room and suite, Le Grand Café FAUCHON, Fauchon Salon de Thé, FAUCHON Patisserie and Boutique at street level, Le Spa FAUCHON, and for the first time a FAUCHON Bar all under one roof. Feel the essence of Paris while being in picturesque Kyoto. Two cultures. One hotel. Infinite indulgences await.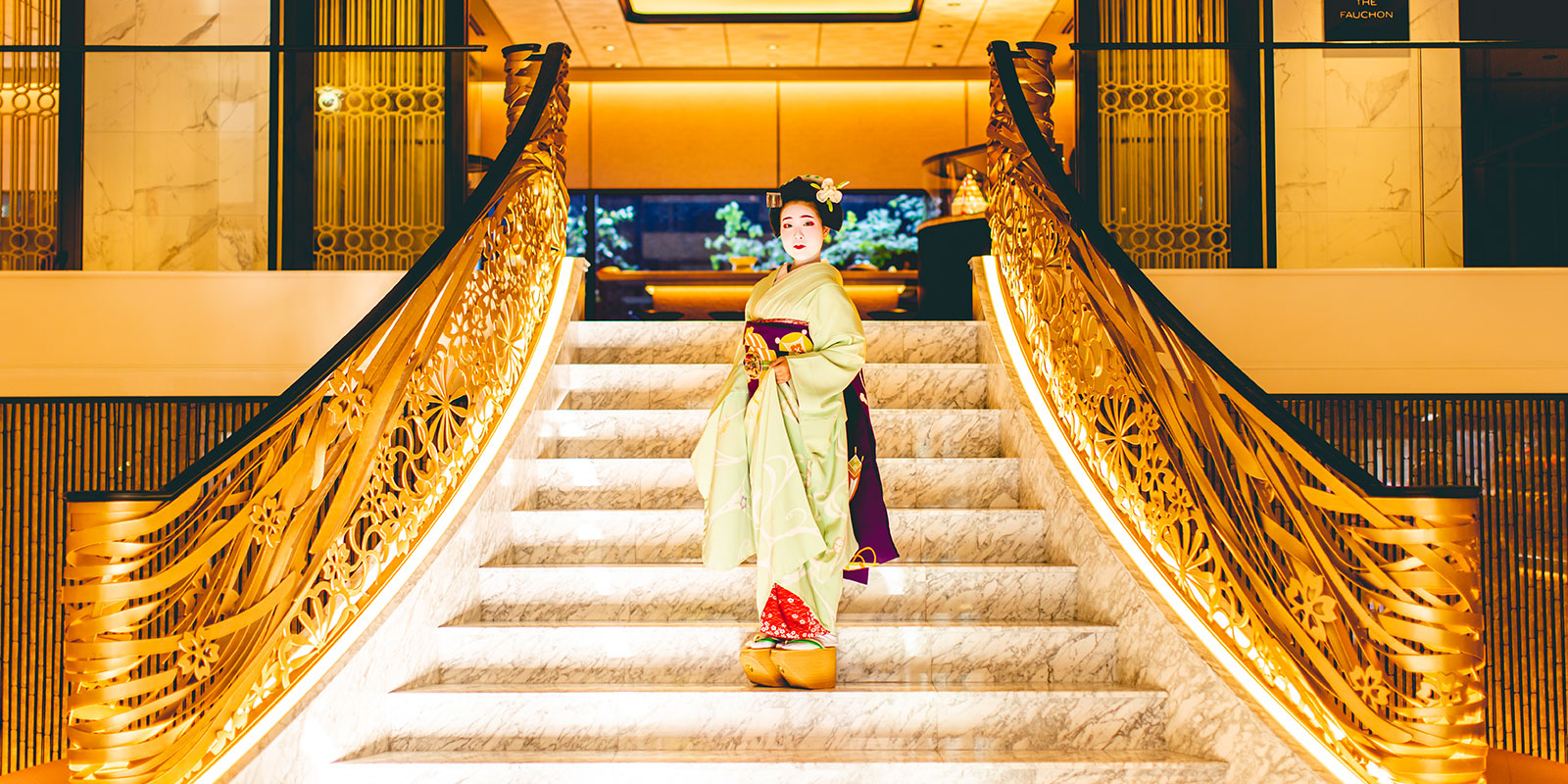 NEWS & SPECIAL OFFERS
DISCOVER THE LATEST INDULGES FROM FAUCHON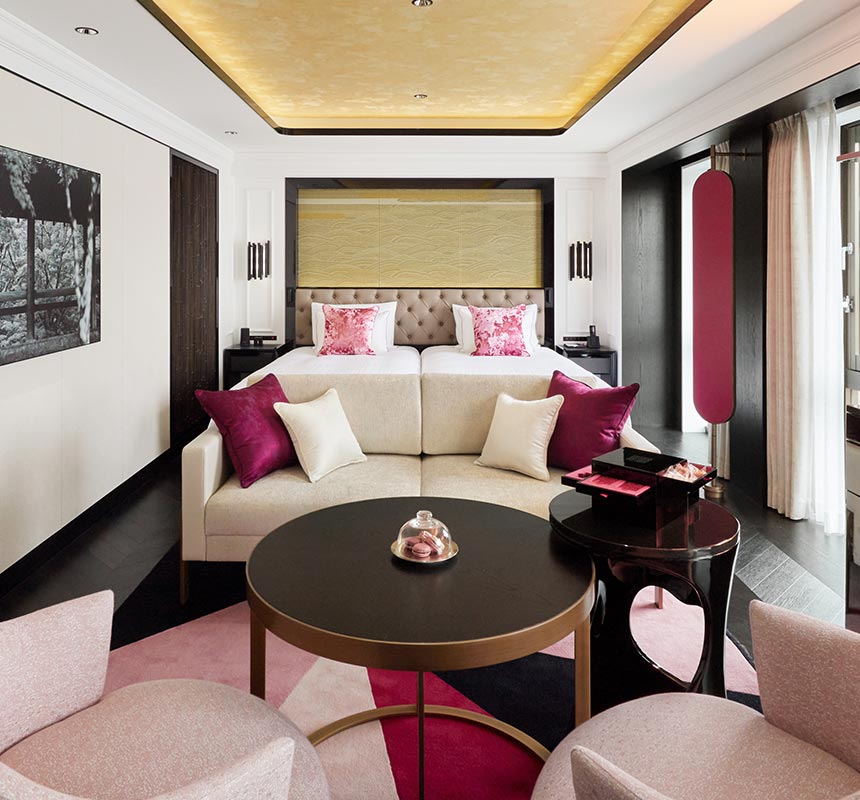 ROOMS & SUITES
PARISIAN STYLE AND JAPANESE ARTISTRY
Designed as an urban retreat to indulge in relaxation, restoration, and delectable gourmet pleasures, our 59 guest rooms and suites represent a masterful blend of Parisian style and Japanese artistry. Inspired by FAUCHON's "Life In Pink" philosophy, the decor features shades of pink, white, black and gold melding Western design with Japanese materials and techniques. Every comfort, technology, and amenity has been included as well as FAUCHON's iconic Gourmet Bar to savor FAUCHON sweet and savory treats at any time in the privacy of your luxurious room or suite.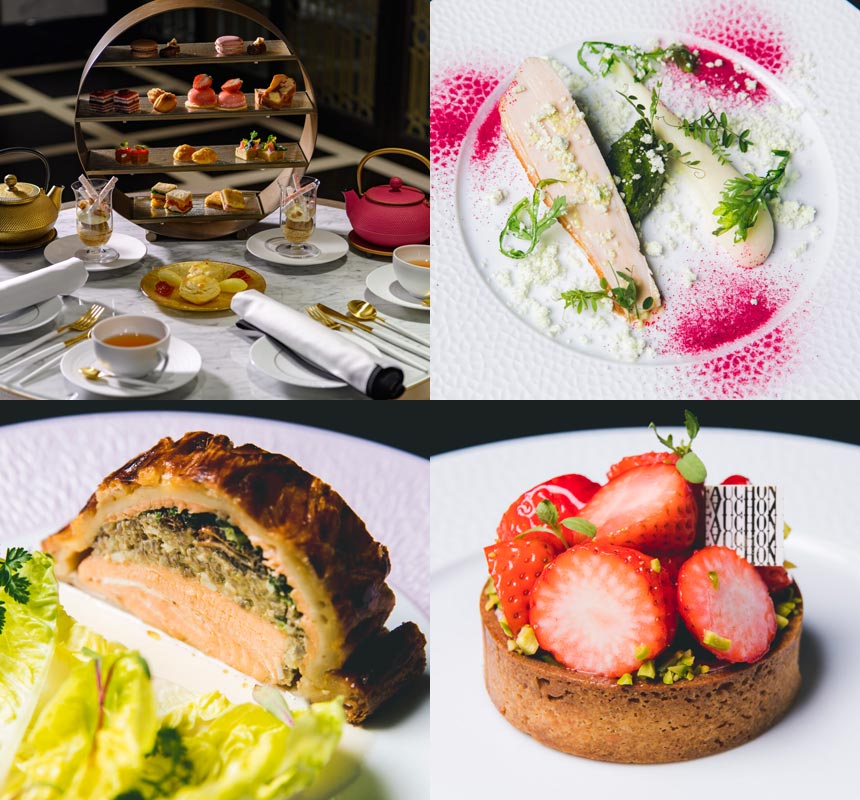 GOURMET MOMENTS
Absolutely every second of your experience with FAUCHON L'Hotel Kyoto centers around gourmet pleasures and sensual indulgences. From the street you are beckoned to come inside the boutique and marvel at the jewel-like pastries and colorful macarons in the showcase. Upon check-in at the hotel, you are welcomed with a special tea and FAUCHON pastry. Our iconic "Gourmet Bar" inside every guest room and suite invites you to sample sweet and savory FAUCHON treats any time of the day or night. FAUCHON's chefs at The Grand Cafe Fauchon endeavor to tantalize the palate with wonderful gourmet delicacies prepared from only the best local ingredients for breakfast, lunch, dinner, and whenever you feel the need to indulge. The Japanese Tea Ceremony is an unforgettable tea time experience incorporating traditional Japanese elements with FAUCHON touches. The FAUCHON Bar, the first of its kind in the world, is the home to FAUCHON's unique GLAM Hours Happy Hour as well as La Delicieuse, a special beer served back in the 1940s and which FAUCHON, partnering together with Tango Beer of Japan, has recreated just for the hotel. And no matter where you roam in the hotel, there is always an opportunity to enjoy the "Macaron of the Day." This is Kyoto's top new dining destination to captivate all of your senses as only FAUCHON can do.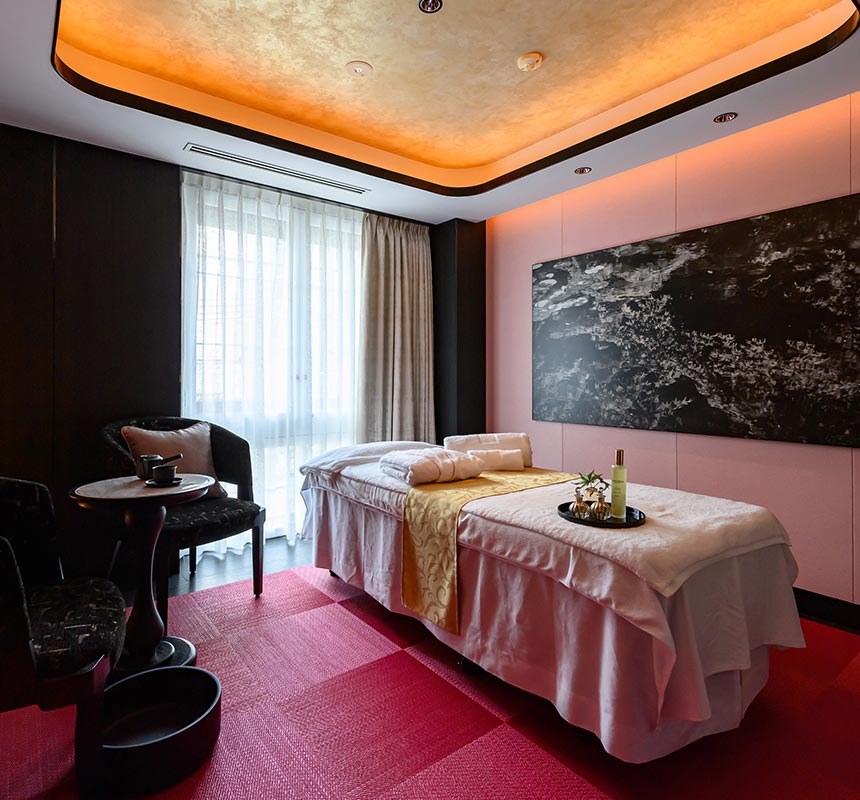 Le Spa Fauchon
The world's first spa named after FAUCHON is the pre-eminent destination to supremely pamper yourself in a setting designed by Japanese and Parisian beauty specialists. FAUCHON Meets Kyoto is never more evident than here where Japanese relaxation techniques and Parisian beauty rituals come together for ultimate indulgences. Le Spa FAUCHON provides a wide range of body, facial, and scrub treatments utilizing rich textures and sensual fragrances. A joint partnership between Credo International Co., Ltd. and KOS PARIS, a French luxury cosmetic brand which is entirely organic and sustainable, has resulted in this first venture in Japan. FAUCHON L'Hotel Kyoto's spa products and guest room amenities were exclusively created, utilizing natural organic ingredients to create FAUCHON's signature scent to awaken your senses.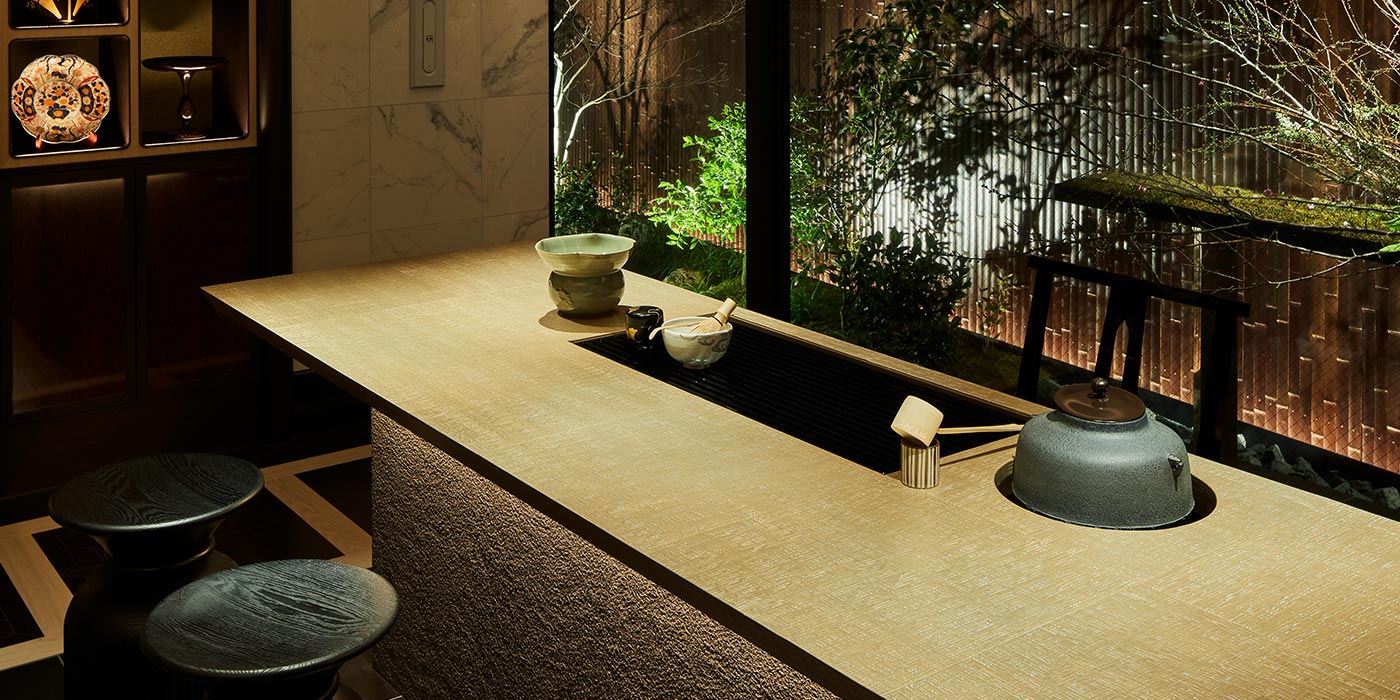 SPECIAL
EXPERIENCE
EXPERIENCE A TEA TIME LIKE NO OTHER
FAUCHON L'Hotel Kyoto brings together the French brand's world-renowned reputation and artistry for pastries with the elaborate Japanese tea ceremony ritual to create a tea time experience that is uniquely distinctive and memorable for the most discerning guests. Teatime at FAUCHON L'Hotel Kyoto incorporates traditional Japanese elements with FAUCHON accents including a pink teapot and macarons along with a special tea blend, "One Night In Kyoto" (green tea with fruity notes of cherry, pear, and tangerine) created especially for the hotel. It is the absolute essence of FAUCHON Meets Kyoto.
Preview the experience that awaits at FAUCHON L'Hotel Kyoto — a feast for the eyes and every one of your senses.
ACCESS
FAUCHON L'Hotel Kyoto is easily accessible to major Kyoto transportation hubs as well as top sights and attractions:
◆

6-minute walk from Kiyomizu-Gojo Station on the Keihan Line

◆

10 minute walk from Kyoto Kawaramachi Station on the Hankyu Line.

◆

Approx. 30 minutes by JR train from Osaka Station to Kyoto Station

◆

Approximately 90 minutes by limousine bus from Kansai International Airport to Kyoto Station

◆

Approximately 90 minutes by limousine bus from Kansai International Airport to Kyoto Station. 55 minutes by limousine bus from Itami Airport to Kyoto Station.

◆

About 10 minutes by cab from Kyoto Station
Kawaramachi-Matsubara bus stop (15 sec. walk)

Takase River (2 minutes walk)

Kenninji Temple (8 minutes walking distance)

Kiyomizu Temple (30 minutes walking distance)

Yasaka Shrine (30 min. walk)