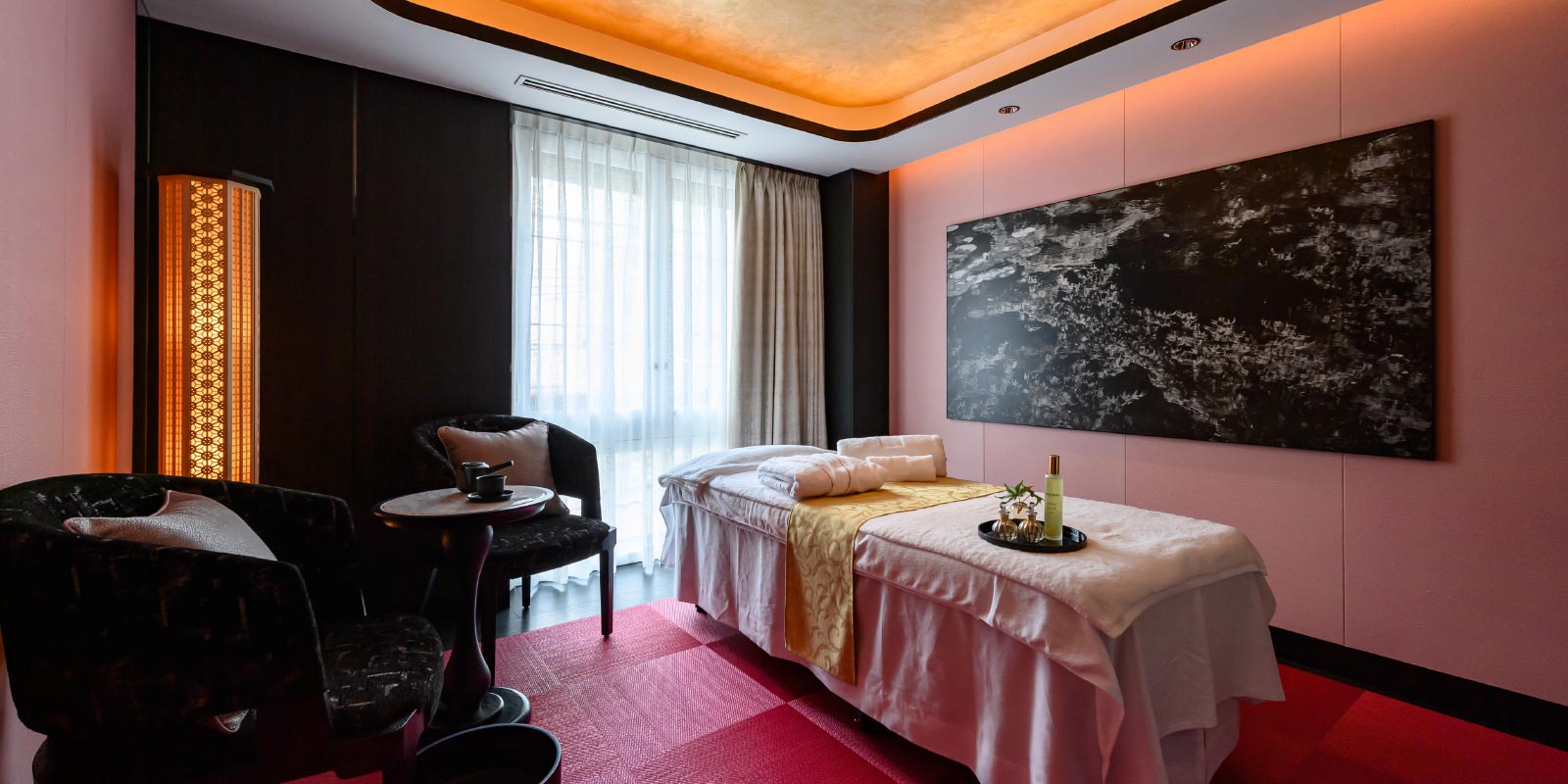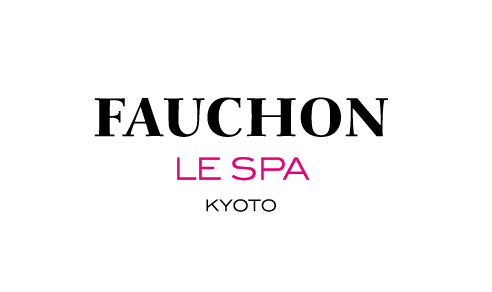 At FAUCHON, supreme indulgences don't just come in the form of incredible food and drink. For us, the French joie de vivre also means enjoying life to the fullest including pampering, rejuvenation, and relaxation. Here at Le Spa FAUCHON, the world's first spa named after FAUCHON and introducing a new partnership to Japan with Credo International Co., Ltd. and KOS PARIS. Le Spa FAUCHON combines the brand's legendary sensory indulgences with centuries-old healing and rejuvenation and innovative beauty techniques to create a haven of pure pleasure featuring the best Japanese and Parisian beauty specialties. Are you ready for ultimate pampering and indulgences?
SIGNATURE PRODUCT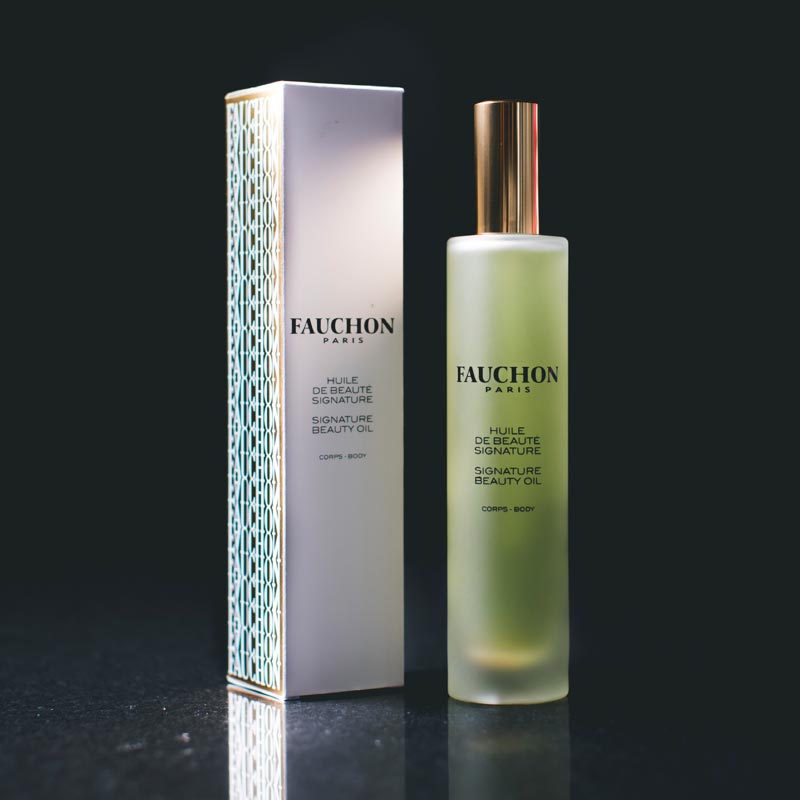 One of the most popular products available at Le Spa FAUCHON is our FAUCHON Signature Beauty Oil. Perfect for use on the entire body — including the hair — it leaves the skin moisturized without feeling greasy. It is 100% vegetable oil (primarily Camellia oil) and features Rosewood and Sandalwood essential oils with a woody top note, a middle note of Tonka seed and a final note of powdery sweet Benzoin. It is particularly recommended for use on dry areas such as elbows, knees, and hair and suited for everyone. Priced at ¥9,350 for 100 ml, the oil is available for sale at Le Spa.
PRIVATE BATH RITUAL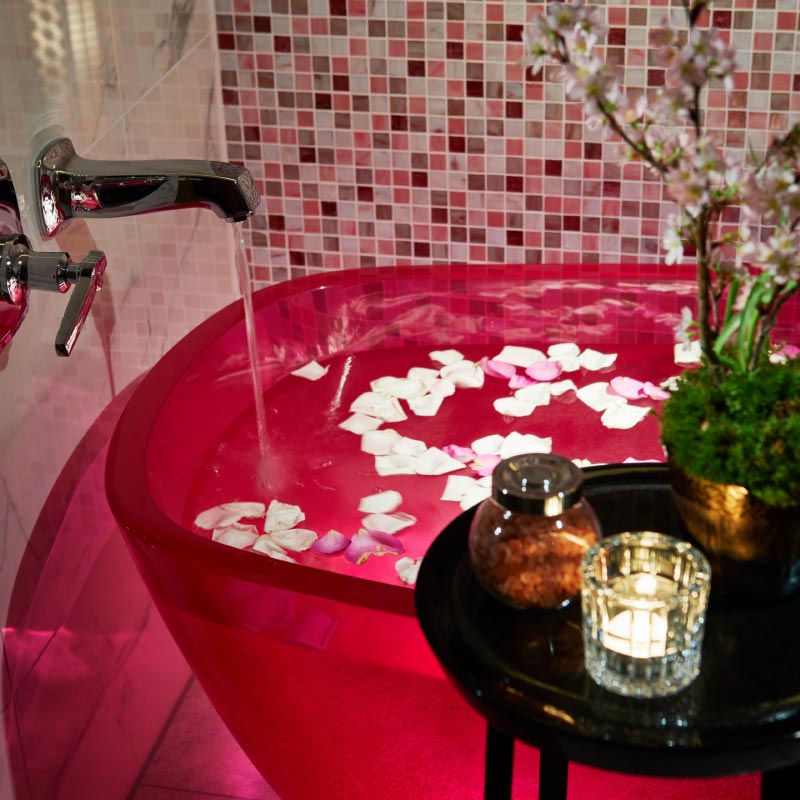 Combine the best of French and Japanese healing treatments with our optional Private Bath Ritual. Open the door to the treatment room and see a pink bathtub with rose petals floating on top.
As part of LE SPA FAUCHON's relaxation experience, it is the perfect option for you to feel peaceful and happiness from the core of your body and the best option for up to 45 minutes of supreme bliss.
There is an exclusive room featuring this bath ritual which includes:
Shampoo, conditioner, body soap, and bath towels for use in the private bath.
Maximum of 45 minutes including changing before the treatment.
Reservations are required for this service.
For female customers only.
Private bath ¥5,445 (30 minutes)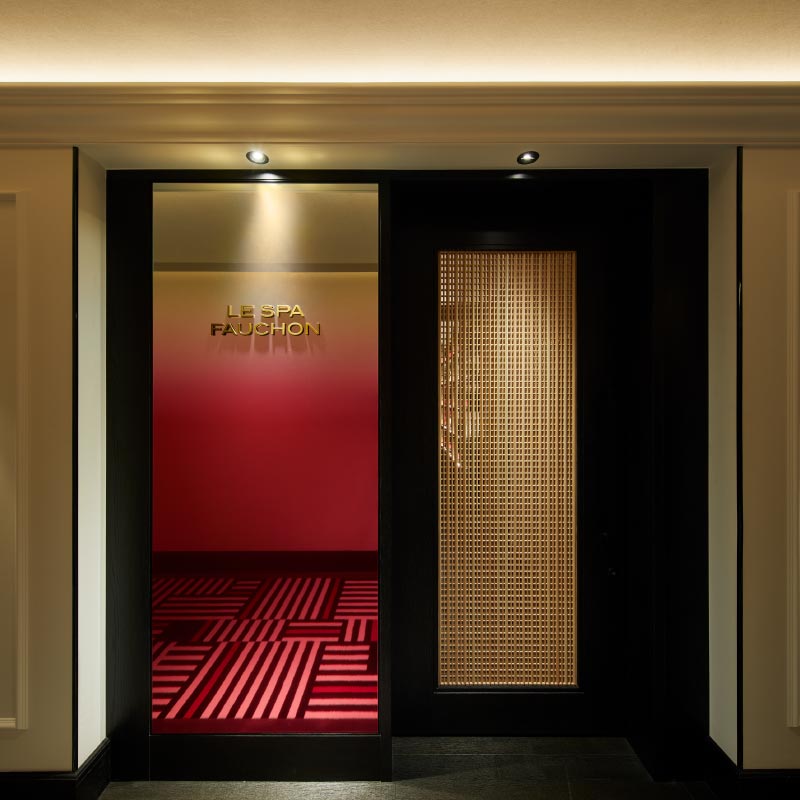 Business Hours

11:00 – 20:00 / The spa is open exclusively by appointment.

Treatment
Room

3 Rooms

Arrival Time

Please come to the Concierge Desk on the 1st floor or the reception or to the 10th floor approximately 15 minutes before your appointment to check in. If you arrive late, your treatment time may be shortened.
Please allow a minimum of 15 minutes prior to your appointment for liaison with your aesthetician, change of clothes, and refreshment.

Change or
Cancel

Please contact us at least one day prior to your reservation date.
Please be advised that changes or cancellations made on the day of your reservation will incur 100% cancellation fee.

Treatment Inquiry

info@lespafauchon.com
(Please enter your name and the details of your inquiry)
TERMS & CONDITIONS
※ Le Spa is limited to people 18 years and older only.
※ These treatments are not designed for pregnant women.
※ The treatments we offer are not medical treatments, and the effects and benefits may vary from person to person.
※ Due to scheduling, we are not able to accommodate specific requests for treatment rooms.
※ Facial course: If you are a contact lens wearer, please bring your own contact lens case and cleaning solution if you wish to remove them before your treatment.
※ If you are not feeling well or are under the influence of alcohol, we may not be able to perform the treatment.
※ If you have high blood pressure, allergies, injuries, are under a doctor's care, take prescription medications, drink alcohol, or have any other other health concerns, please let us know at the time of booking.
Please inform us at the time of reservation if you are under the influence of any medication or other substances.
Paper shorts, hairbrush, bathrobe, hair dryer, and slippers are provided.