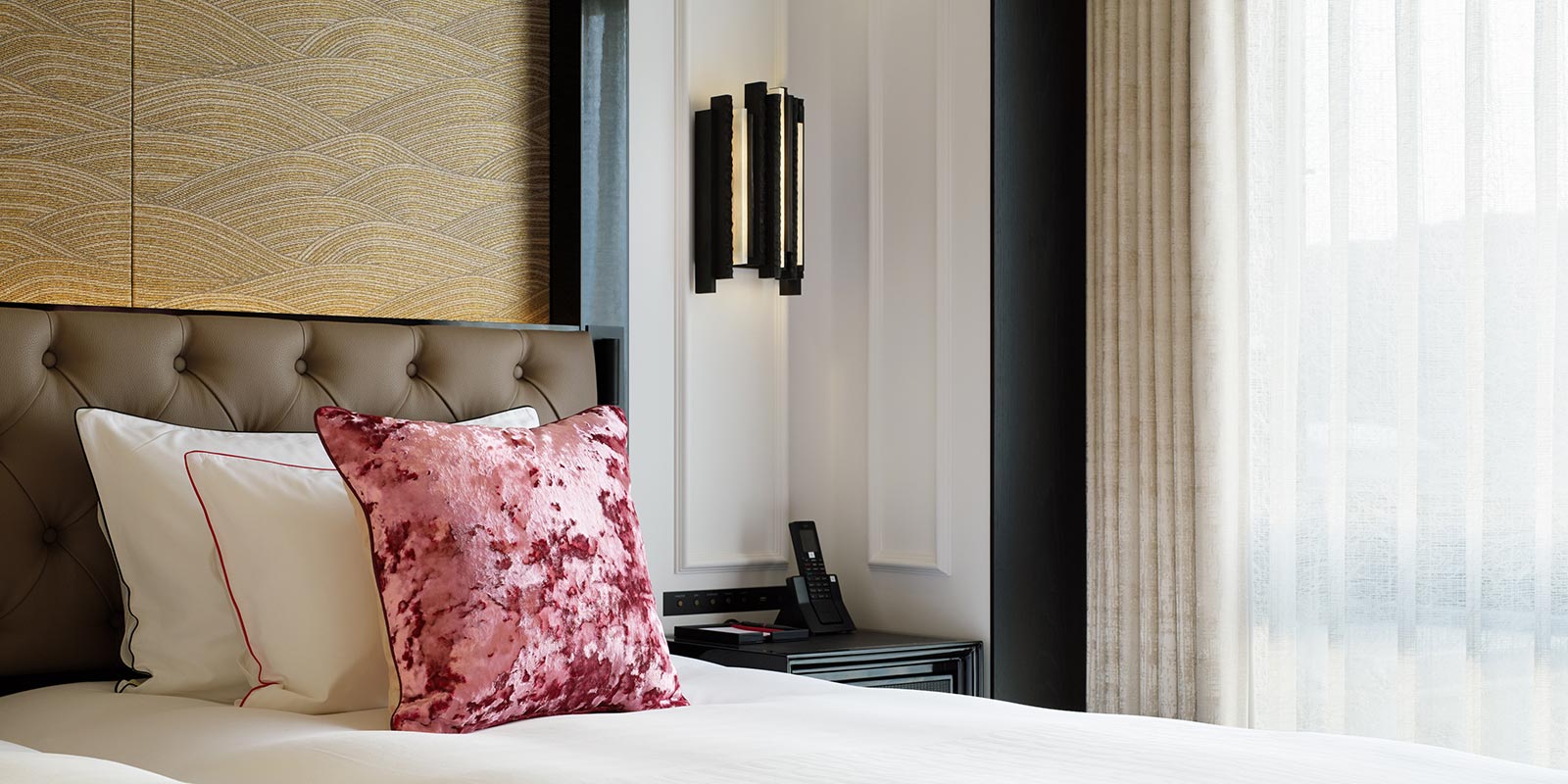 Life in Pink at FAUCHON L'Hotel Kyoto is elegant, hedonistic, and stunningly beautiful. Check in to one of our luxurious suites or rooms and experience the perfect marriage of FAUCHON meets Kyoto. Feel Paris from the design style of FAUCHON and live Kyoto with the subtle touches of Japanese elements incorporated throughout your domain of pure pleasure. The colors, textures, and floorplan of our suites and rooms are an unexpected surprise from the moment you open the door and continue to delight around every turn with subtle elegant touches as only FAUCHON can do.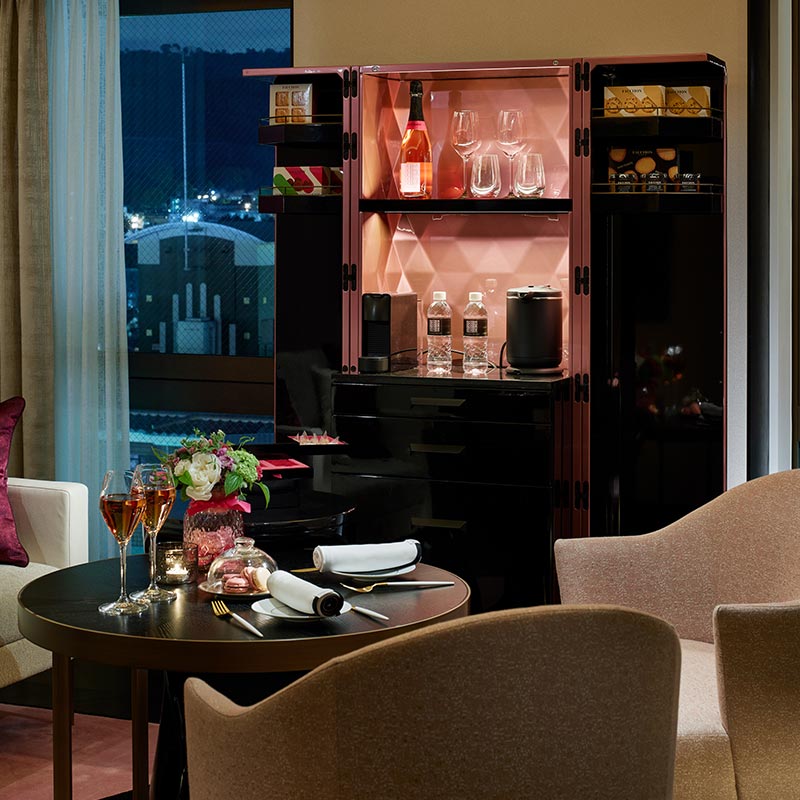 Image
INDULGE ANY TIME OF THE DAY OR NIGHT
FAUCHON's Gourmet Bar — a hotel minibar reimagined — is already a global sensation gaining lots of media attention. Enclosed within the stunning cabinet custom-crafted for FAUCHON by French luxury manufacturer Roche Bobois and renowned designer Sacha Lakic, is everything one would want to immerse themselves in the world of FAUCHON. Here, in the privacy of your guest room or suite you can indulge in FAUCHON sweet or savory pleasures any time of the day or night. Resting behind the doors and within the cabinet drawers are the most delightful FAUCHON products including champagne and other sweet and savory FAUCHON branded treats. Bon appétit!
FAUCHON MEETS KYOTO. BY DESIGN.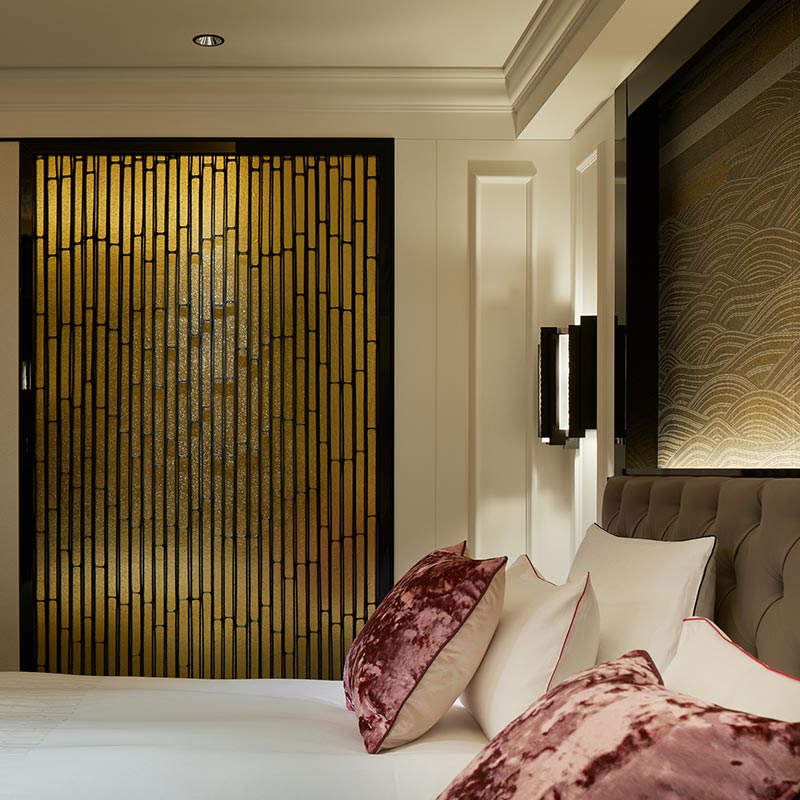 FAUCHON's legendary artistry is not only present in its pastry and culinary masterpieces. The brand has also translated its innovative and imaginative aesthetic to the hotel's interior design.
Each of the guest rooms and suites features artwork to illustrate a sense of place. Noteworthy is the headboard created by Uetaro Saito, one of Japan's leading kimono designers. It is a gorgeous and delicate work of art, woven with a variety of metallic yarns using the Jacquard technique of Nishijin weaving. The design illustrates the surface of the water where the gods dwell, based on the motif of the ancient Japanese belief in eight million gods.
Black-and-white photography featuring striking images of Kyoto's scenery is present throughout the accommodations, although each room type has its own concept to create a tranquil and feminine charm with the beauty of Kyoto interpreted in a graphic way. Each piece of art is unique, thereby creating a different perspective in every room and suite.
With accents of FAUCHON pink, the hotel colors of white, black, and gold are expressed with Western and Japanese materials and techniques, creating a space with a luxurious and modern design successfully marrying Paris and Kyoto.
The textiles in the guest rooms were created especially for the hotel using traditional Japanese craftsmanship:
Headboard / by Kamitaro Saito
Armchair / by Masataka Hosoo
Toilet door fabric / by Masataka Hosoo
Bamboo screen / by Takesada Shoten
Bracket lighting / by Murayama Woodwork
Wall photo art / by Hiroto Morikawa